Announcing the 2015 Map Challenge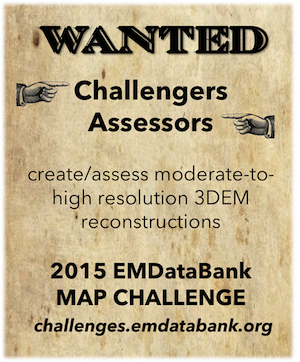 13-July-2015: Unified Data Resource for 3DEM is pleased to announce the 2015 Map Challenge.
All members of the Scientific Community--at all levels of experience--are invited to participate as Challengers, and/or as Assessors.
Seven benchmark raw image datasets have been selected for the challenge. Six are selected from recently described single particle structure determinations with image data collected as multi-frame movies; one is based on simulated (in silico) images.
Challengers are sought to create single particle reconstructions from the targets, and then to upload their results with associated details.
Assessors are sought to participate in evaluating submitted reconstructions.
Registration is now open for all interested participants. Challengers may submit maps between August and December. Before submissions open, all are encouraged to provide feedback on submission requirements. The open assessment period will commence in early 2016.
To learn more about this challenge and to register, please visit http://challenges.emdataresource.org and click on "MAP CHALLENGE" in the menu bar.
The map challenge is the first of two community-wide challenges being sponsored by us in 2015 to critically evaluate 3DEM methods that are coming into use, with the ultimate goal of developing validation criteria associated with every 3DEM map and map-derived model. The second challenge, focused on creating coordinate models for 3DEM maps, will be announced later this year.